Analysis in Government Month 2023 hub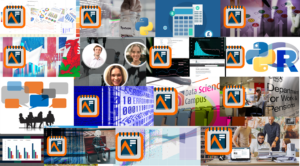 Analysis in Government Month 2023 (AiG Month 2023) took place throughout May 2023.
You can catch up on highlights from the month in our article, celebrating the success of Analysis in Government Month 2023.
AiG Month 2023 is filled with bespoke learning events for analysts across government. The packed schedule features live events, insightful blogs, and themed learning days for you to get involved with. This year's theme is "Impact".
You can go straight to the Analysis Function Eventbrite page to find our full calendar of events.
Remember to follow the Analysis Function on Twitter @gov_analysis to get the latest on AiG Month events and join the conversation.
Book your tickets
Make space in your calendar for some amazing AiG Month events, happening every Tuesday, Wednesday, and Thursday throughout May at "Ten, Twelve, and Two" (10:00, 12:00, and 14:00).
Many events are sold out but there is still availability for some fascinating sessions including:
If you miss any of our events, you can catch-up on the learning outcomes at the end of each week.
Community programme
Find out about the events being organised by our vibrant membership in our AiG Month Community events programme.
Blogs and people stories
Throughout the month we will be sharing enlightening stories from colleagues working on the biggest analysis projects across many departments and professions. We have also been asking analysts across government to answer 5 Quickfire Questions about their careers so far. Visit our blog to read all our Analysis in Government Month features.
Follow the AF on Twitter to get notifications whenever we publish an update.
We also recommend reading the following blog posts:
Learning and development resources
You can also access learning that has been curated and created by the Analysis Function Capability Team and a diverse range of top government analysts. This includes:
Catch-up on the learning outcomes from our live events during Analysis in Government Month.
Just for fun
Find "Puzzle Grids", Wordles, and quizzes on our new AiG Month puzzle page.
Share your score on Twitter by tagging us @gov_analysis and using the hashtag #AiGMonth23
Analysis Function Coffee Connect
Analysis Function (AF) Coffee Connect is an informal networking opportunity for analysts, policy professionals, and members of the Government Office for Science (GO Science). It is a great way to meet others and build your network to help you broaden your understanding of working across government.
You can find out more about how to get involved with Coffee Connect on our webpage.
Connect with us
You can interact with the Analysis Function Central Team by:
Use the hashtag #AiGMonth23 to keep up to date with all the latest and share with your network. If you have any questions about AiG Month, or if you would like to share your content, please email the team at Analysis.Function@ons.gov.uk. We look forward to seeing you there!
All about AiG Month
The UK's largest learning and development event for government analysts is back! AiG Month 2023 is filled with bespoke learning events for analysts across government. The packed schedule features live events, insightful blogs, and themed learning days for you to get involved with.
Make the most of this unmissable opportunity to join us and develop your analysis skills!
Our theme
The theme for AiG Month 2023 is "Impact" and how excellence in government analysis impacts policy decisions, operational delivery, and ultimately the society we all live in.
This could be the impact of an analysis project on Policy or Operational Delivery colleagues, the impact of improving the accessibility of your data visualisation, or even the impact the innovative, inclusive, or interesting work you're currently engaged in will have in the future.
During AiG Month 2023 you will have the chance to:
attend exclusive events
learn from exclusive new learning and development
develop analysis skills
Live events include presentations, demonstrations, question and answer sessions, interactive workshops…and more.