This item is archived. Information presented here may be out of date.
Working together: Working with universities and the analysts of the future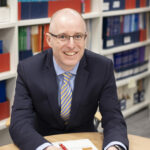 This blog is part of our 'Working Together' series for Analysis in Government (AiG) Month 2022. Throughout the month we will be sharing blogs from colleagues across government to highlight the power of working together.
As a learning organisation, the Government Actuary's Department (GAD) works closely with universities in many ways. We are committed to expanding and enhancing our areas of expertise to keep up with developments and the needs of our clients. Universities have valuable and fresh research in many areas of interest for us.
Work experience offer
We provide placements which offer students the opportunities to do work experience in GAD. These have enabled future actuaries, analysts, and data scientists to gain an understanding of what GAD does while providing valuable input into the department's work. GAD's collaboration with universities has included:
careers fairs, talks and work placements
joint projects with university students and lecturers
sharing or co-hosting events with universities
Projects have provided participants with valuable experience in data analytics and actuarial skills with an industry expert from GAD providing guidance and project management.
Working with universities enables us to gain insights into the latest analytical techniques which allow us to deliver value to clients in a cost-effective way.
"Working on a university project with GAD was an enriching academic and professional experience. As a team of MSc students, we were able to meaningfully engage with a project to combine our academic backgrounds with the actuarial role of our project lead." MSc student at the University of Manchester
"We applied different skills to the project, learned to collaborate and gained insights into practical issues." MSc student at Bayes Business School
"It was interesting to apply myself to a completely new area which pushed us to be innovative and come up with a novel solution. This experience allowed me to develop some vital skills that will be invaluable to my future career." MSc student at the University of Manchester
Recently students have been able to work on several important projects.
Mortality predictors
Students worked on a project to analyse the correlation between mortality and factors which could be affecting mortality.
They analysed factors including climate change and spending on the NHS. The students used regression models with time lags built in to work out whether there was a link.
Although the findings were inconclusive it was still useful to explore something the industry has been considering for several years. The students produced insightful analysis and used innovative illustrations to communicate the outputs.
Local government risks
Data science students gathered information on what risks the local authorities and blue light services are insuring.
They looked at how the risks differ between authorities. They also looked at how risks are being mitigated through self-funding where commercial insurance is not in place.
The students learned about the commercial insurance market with a GAD industry expert available to answer questions.
Academies' flood claims
Students undertook a project to analyse flood related claims in academies across England.
University of Manchester students used geospatial software to produce flood maps to look at the effect of flooding by region. They then produced an interactive dashboard to present the findings.
Coronavirus (COVID-19)
NHS Services
We examined the effect that COVID-19 has had on NHS services. Students gathered and compared information to analyse the changes in activity during 2020.
Pandemic insurance
COVID-19 showed the devastating effect that pandemics have on businesses with widespread interruption of activities. Given our experience in this area, GAD supported Bayes Business School by participating in focus groups and workshops.
Working with universities reflects GAD's strategy
The students of today are our employees of tomorrow. The projects we do with universities provide valuable insight into public services and demonstrate the value of these types of partnerships.
We continue to welcome the opportunities to:
be an industry partner for research projects
provide placement opportunities for students
learn how university research can be applied to the public sector work GAD undertakes
Collaborating with university students and academia is important to GAD's work. We are committed to expanding areas of expertise to keep up with current needs, and universities have valuable and fresh research in these areas.