This item is archived. Information presented here may be out of date.
My career in analysis: Catherine Hutchinson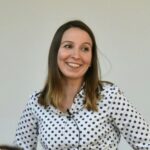 This blog is part of our Analysis in Government (AiG) Month 2022 series called 'My career in analysis'. Throughout the month we will be sharing blogs from colleagues about their career journeys. Each contributor will also share their best pieces of advice for aspiring analysts.
Hello, I am Catherine Hutchinson and I am currently the Head of the Evaluation Task Force (ETF). The Task Force is a joint Cabinet Office and HM Treasury unit that has been set up to put evidence at the centre of decision making. We are trying to increase the number and quality of evaluations across government, so that we know that money is being spent on the right things in the right way.
The Rt Hon Michael Gove set up the Evaluation Task Force. He said he wanted us to be the antidote to the 'sugar rush of policy making' in his Ditchley lecture. And I quite like that analogy. Most recently we have:
contributed to the latest spending review
launched our website which has lots of great links to the best evaluations in government, and links to resources to support evaluation work
hosted Her Majesty's Government's (HMG's) largest evaluation conference, which was called 'Policy that works'
Now we are turning our attention to concentrate on the top ten evaluations we will support. We will also be setting up a trials register so all new evaluations can be found in one place. I am big fan of delivering practical things, although I know strategy and planning is also important!
I am also the Head of Profession for Government Social Research for the Cabinet Office, HM Treasury and Number 10. This means I help to make sure everyone badged as social researchers in those departments has the right professional support to do their job properly. I also make sure the right people can join that profession too. It can be lonely sometimes as an analyst in government, so I know how important it is to have a community around you.
How and why I got into government analysis
I joined the Civil Service in a frontline operational delivery role. I started in the Prison Service many years ago as an Assistant Psychologist. I had dreams of working as a chartered psychologist to help people with psychological disorders. But in reality I ended up working in lots of prisons, which made me realise that to make a difference sometimes the system itself is the thing that has to change. After I realised that, I moved to the Prisons Inspectorate.
It was at this point I accidentally took the GSR test and became a member without realising! I got to a point in my career where I knew I didn't want to do what I had been doing, but I didn't know what else to do. I was given a leaflet offering me the chance to join the GSR fast stream as an internal candidate and I took the opportunity.
At the same time I also applied to the police and to train as a solicitor. But I decided that I would rather join GSR and I transferred to Department for Education (DfE). Ultimately for me I've always wanted to help people, and the Civil Service is the best place to be able to do that on the biggest scale.
My career progression
At DfE I worked in Teachers Analysis Unit, looking at how to recruit and retain the best quality teachers. I also worked in more of a policy type role in the Industrial Relations Unit during a period of rolling strike action.
I loved DfE, but I also struggled. It was hard to be at my best working in a topic area I just didn't have a passion for, and being in a big government department was a real culture shock for me. I knew to really be right I had to work in criminal justice again, and but maybe somewhere less central. So I applied for a job at the National Police Improvement Agency.
I got a response to my application saying "The organisation you applied for doesn't exist and neither does the job – but we'd like to offer you a job in the What Works Centre for Crime Reduction (the College of Policing)". I accepted the offer.
I loved my time at the College of Policing, and worked on all sorts of trials of technology. This included winning a European Public Sector award for a trial of body worn video cameras. I also got the chance to work on international policing and made a practical difference to the way policing happened. I got my first proper promotion when I went to the College. I was then was promoted while I was at the College, and went on secondment on a promotion from the College. So being happy at work was really positive for my career development too!
My secondment was to the Department for International Development (DFID) as the Head of the Evaluation Unit there. From there I also took on the role of Head of the Evaluation cadre. While I was there I turned it into a GSR cadre to make it much more inclusive.
DFID became the Foreign Commonwealth and Development Office just as I went on maternity leave. While I was away I applied for and got my current job. The ETF is my dream job and I am so pleased to have such an amazing team of people to work with in Cabinet Office and HMT.
My advice to other analysts
Do jobs you like, as its easier to put all of your effort into something you enjoy.
Take your professional development seriously. Get a mentor, or a buddy. Be cheeky and ask to shadow or be involved in things. Remember you are talented and in a huge organisation full of opportunities. So make the most of it!