This item is archived. Information presented here may be out of date.
Secondment to BBC News: the time I had to deputise for the Head of Statistics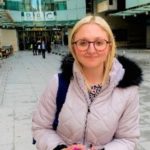 I have worked at The Office for National Statistics (ONS) ever since leaving university. The pandemic ignited lots of great work opportunities, but I always knew I wanted to try something different and challenge myself in a way that I hadn't before. I noticed an advert for a secondment at BBC News and thought it was a fantastic opportunity to do just that and see statistics from the perspective of a user, rather than a producer.
I was fortunate enough to be accepted following my expression of interest and completed the three-month secondment during the summer of 2021. The opportunity was perfect for me – it was primarily remote, but I had the option to travel to BBC Head Quarters in London, New Broadcasting House (NBH), as and when I wanted. I worked closely with BBC's Head of Statistics, Robert Cuffe, who supported me throughout my time there and I sure did learn so much from him.
A typical day
Every week, sometimes every day, was different – with the pace moving very quickly. However, a typical day would consist of back-to-back stand-ups in the mornings with several teams to discuss the news agenda for the day and how requests would be allocated within the team. My role during these meetings was mostly providing support and listening in to know what was considered 'important news' that day. Robert and I would also review the regular stats releases at 9:30am and pull out the top lines, circulating to journalists within 10 to 15 minutes. It would take slightly longer for new releases as we'd check the methodology to ensure the stats satisfied the BBC editorial guidelines.
Other parts of my role
Outside of the daily 'business as usual', I worked with journalists across the BBC covering a range of topics and data sources, offering advice and guidance on their use and interpretation of data. I would prompt journalists on key things such as sample size and the sampling method – but it was equally as important to ensure what they had written in their scripts matched what the data were telling us.
Another part of my role involved helping with the fact-checking during events such as Prime Ministers Questions, and quite recently the political party conferences. I was so impressed by the speed at which claims were logged and fact-checked by the Reality Check team, it really was remarkable.
Opportunities I had during my secondment
Although I spent most of my secondment working from home, I did have the opportunity to visit NBH and have a tour of the BBC Newsroom. The novelty never wore off during the few times I worked there, the atmosphere and energy was unmatched.
I was given the opportunity to sit in the Newsroom gallery and watch as the news was delivered live on the one o'clock news. From this, I began to appreciate how much work goes on behind the scenes to broadcast live news – literally anything can go wrong and throw it all off.
I was also lucky enough to shadow a team of journalists at BBC Bristol, observing first-hand how packages and several outputs are edited and pulled together. The news editors often require unique packages from journalists, although they cover the same topic, to avoid repetition throughout the day.
Robert took a period of paternity leave in the middle of my secondment – this meant I had the chance to deputise for the Head of Statistics at the BBC. Needless to say, the thought of that terrified me, but I learnt to trust my instinct and lead on decisions that would otherwise be made by Robert.
I also had the opportunity to co-author a BBC article covering ONS mortality statistics – it was very satisfying seeing my name by-lined at the top of the article, and also next to several news summaries on BBC's Live news page.
What have I learnt whilst working in news?
News is incredibly fast-paced. New stats are expected to be digested and summarised within minutes so a lot of what is included comes from the main findings in the release. This is something I will consider for any release I work on in the future.
Robert is well-known for saying "Would you shout it upstairs to your mum?". If the answer to this question is no, then it's probably not newsworthy. So much is happening across the UK and globe every day that needs reporting, so if your stats make the news, they're a pretty big deal.
Most publications will have various caveats. It's important to ensure BBC copies are concise, hitting all the main points but conveying the necessary limitations. Being able to pull out the essential 'need to know' information is a skill I've developed and will take back to ONS with me.
Overall, this secondment was a fantastic experience and is something I will remember fondly throughout my career. I would encourage anyone looking for a challenge in a completely different environment to apply for any future opportunities!