This item is archived. Information presented here may be out of date.
My career in analysis: Richard Cable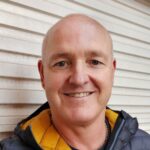 This blog is part of our Analysis in Government (AiG) Month 2022 series called 'My career in analysis'. Throughout the month we will be sharing blogs from colleagues about their career journeys. Each contributor will also share their best pieces of advice for aspiring analysts.
Hi, I'm Richard Cable and I am currently working for the Ministry of Defence (MOD) as the Head of Analysis-Civilian team. I'm leading a team of 8 people who produce analysis on the MOD Civilian workforce. I'm based in Bristol but most of the team are based in London.
I left university with a Social Science and Language studies degree that involved studying some statistics modules. In the mid-90s I found myself, aged 27, living in Yorkshire without a job. I think I had post-University depression. I am sure I am not the only one who's had that! How could life ever be so good again?
The job situation was poor 'Up North' so I moved to Bristol, and since the whole of my family worked in the MOD I thought I would continue the tradition. I joined the MOD at an Administrative Officer level and thought "this will be ok until I get a proper job".
I was quite late to the Civil Service. I'd had countless attempts at different jobs, which helped me find out what I didn't want to do. But I do look back with some nostalgia to the summer days I spent on sitting on mowers, teaching and playing golf, or putting up headstones with the local stonemason. Cemeteries are peaceful places, and there was definitely something special and memorable about putting up the headstone of my first doctor. I still wouldn't mind doing that job for one day a week!
Joining the MOD
My first MOD role was as a commodity manager. This involved buying refrigeration and galley equipment for the Royal Navy. I soon found out that sailors get very upset if they don't have a deep fat fryer, chip cutters or refrigerators to store beer.
Working with Naval staff was quite an experience and a few submarine visits made me realise I was certainly not going to be a submariner. For an Administrative Officer role, the level of responsibility was a real surprise too. I could spend more in a week than I could earn in a year. The role involved using historic data to predict future usage, but at that time a fair amount of the job was still done on paper. But these ended up being  my first steps into analysis, I suppose! I spent 5 years doing this pretty stressful job and gained my Chartered Institute of Purchasing and Supply graduate diploma while I was working. My studies gave me some more experience with statistics.
In 2001, I joined what was then the Defence Analytical Services Agency. We have a had a few name changes since then. I had some experience in statistics and had seen the job advertised internally. This was my first move into Government Analysis and the best career decision I ever made. From the day I started the culture was so different from my previous experience. It felt like everyone was equal and I was on par with everyone, regardless of grade.  It must have been ok because I have stayed here for 20 years. When I first joined, I thought my technical ability was quite good . . . I soon realised it wasn't!
I spent 5 years as an Executive Officer (EO) in the Logistics Branch. In those days we produced stats on Search and Rescue, military flying hours and aircraft accidents.  We had a few interesting visits to Flight Safety Centres during that time. But, it was the analysis of MOD stores data where I really developed my analytical skills. I was involved in 'The Cleansing Project' which was attempting to cleanse data on the main MOD stores systems. This involved linking and matching lots of large datasets. I learned to use fuzzy matching software and was lucky to work with other experienced analysts, which really helped me develop my skills.
My career journey
I've been promoted three times since my days as an EO . I spent 5 years doing Civilian workforce analysis. After that, I was promoted to Senior Executive Officer (SEO) to lead on the development of a stochastic model to forecast the MOD civilian population. I then spent a further 4 years developing and maintaining forecasting tools in Arena simulation software. My most recent SEO role was in the Expenditure Analysis team analysing where and how the MOD spends its money. Recently, I moved into my current role as Grade 7.
Looking back, would I have done things differently. Well, I nearly did. Soon after I joined the MOD I nearly became a teacher. I had a place on PGCE course, but I changed my mind about starting the course after spending two weeks working in a school! I might have been an ok  at teaching, but I think I would have hated it! One of my best friends is a headmaster . . .  and I'm not sure that career path would have been right for me.
My advice for other analysts
I realised that in the Civil Service you have to look at your career journey long term. Don't think about where you are now. Instead think about where you will be in 5 years, or 10 years. I stayed in the Civil Service, and I am glad I did. As I've got older the money has become less important, but the flexibility of my job has become more important. Anyone who has survived those zombie years bringing up children might agree.
Maybe I could have experienced another department but family commitments and location made that tricky. I have had a fair variety of roles within the MOD, and in general I think I made reasonable choices.
So what now? I'm enjoying my current role and I like the team environment. I don't have any particular desire to retire at 60. It looks like two of my children might want to go to University, so that might influence my decision! I might consider reducing my hours, but who knows what the next five years might bring!