This item is archived. Information presented here may be out of date.
A success story from the Government Statistician Group (GSG) reverse mentoring scheme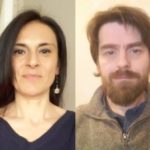 The GSG reverse mentoring scheme was launched in October 2020. John Bates and Adriana Castaldo were amongst the first group of people to sign up.
They discussed what they had learned from the scheme and agreed it had been a positive and worthwhile experience.
John's experience
As someone in my first Deputy Director role I was really keen to sign up for the reverse mentoring scheme.
As a leader I recognise that not everyone feels completely comfortable in our workplaces. And not everyone feels comfortable interacting with each other in the office. I wanted to do what I could to hear different perspectives from my mentor. I wanted to understand how I could be sensitive to different world views and to create a more inclusive environment for my teams.
Adriana has been brilliant to work with. I feel that we have learned a huge amount from each other.
We committed to a principle of confidentiality, so I'm not going to say much about the detail. But Adriana really took the lead as my mentor. We talked about some sensitive issues, including how challenging some work situations can be. We also discussed how issues and events outside work can affect your working life too.
I feel like I know more about how to help people to feel welcomed, supported and safe.
Adriana's experience
I joined the scheme because I have always been a mentee and I wanted to see what it was like to be a mentor. I wanted to improve my confidence when talking to more senior colleagues and feel that we could both learn from each other. I also wanted to discover how I can be a 'leader' and role model for others, while still being myself and being accepted for who I am.
Working with John has been great. He was very open and listened to everything I had to say in a very engaging and respectful way.
I got some great tips on how to manage life and work. One thing I will always remember is when John said, "I think there is no way you can be happy at work if you try to be someone else".
I found it very empowering that he asked my opinions about situations he faces as a manager and senior leader. Being a mentor of someone of a higher grade has definitely made me feel more comfortable with facing senior leaders. Most importantly, it has helped me see beyond grades.
John and Adriana's opinion on the scheme
We would really recommend reverse mentoring or mutual mentoring schemes. We have both really enjoyed the experience. Even though the formal scheme has ended we are still meeting to discuss issues and learn more from each other.
Taking part in a mentoring scheme
The Analysis Function (AF) are launching a new Mutual Mentoring scheme that combines 'traditional' mentoring with reverse mentoring. You can find out more about the scheme in our latest news article.