5 quickfire questions with Sean Mattson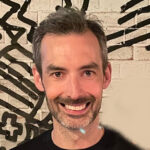 Sean Mattson, Head of the Analysis Function Delivery and Impact team at the Office for National Statistics (ONS), answers our 5 quickfire questions about his career so far.
What is the best thing about your job?
Working with passionate people, who want to make a difference
What motivates you?
Helping people to make decisions which are based on the best analysis and evidence.
What does "making an impact" mean to you?
Changing how something is done, for the better. Whether that is enabling a colleague to make a decision with the right evidence, or ensuring that the public can understand and use the analysis that makes a difference to their lives.
What was your first job, or worst job, and what did it teach you?
My first job and my worst job was working in a supermarket, moving trolleys from one side of the supermarket to the other. One day I got shouted at for not filling up the bags of sweets near the tills, which was apparently part of my job although nobody had told me. This felt a little unfair and so I got a job in a shoe shop instead. I learned that you should always be clear about your expectations of your staff, or they may decide to go to work in a shoe shop instead.
If you could go back in time and give your 16-year-old self just one piece of advice, what would it be?
Speak up. If you have an idea or a question, it's just a valid as the next person's and might just be something that everyone else has missed. And buy shares in Apple.