This item is archived. Information presented here may be out of date.
My career in analysis: Jane Naylor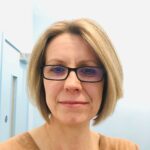 This blog is part of our Analysis in Government (AiG) Month 2022 series called 'My career in analysis'. Throughout the month we will be sharing blogs from colleagues about their career journeys. Each contributor will also share their best pieces of advice for aspiring analysts.
My name is Jane Naylor and I'm the Chief Statistician at the Department for International Trade (DIT). I am responsible for directing insights in the innovative use of data and statistics across all DIT's objectives. These include:
trade policy and negotiations
supporting business to export
encouraging investment into the UK
making DIT a great place to work
I became a government statistician in 2001 when I joined the Office for National Statistics (ONS) as a new graduate. I wanted a job that allowed me to use the skills I'd developed through my degree. And that's exactly what I got. I worked in different teams over the next 16 years in different teams particularly focused on improving and developing new methods for official statistics.
I am really motivated by a technical challenge. But I'm also motivated by knowing that my work is supporting public debate and government decision making. This was particularly true when I moved to the Department for Exiting the EU (DExEU) in 2017 as Head of Statistics. This was a really challenging role where I had to deal with lots of uncertainty! I also had to respond quickly to give analysis as the negotiations with the EU progressed. My interest in trade policy continued when I moved to my current role here at DIT.
A varied career
I've had the opportunity to be involved in a broad range of work as a government analyst. This is demonstrated by some of the most important achievements of my career. For example, I've been responsible for:
developing new methodologies for combining survey, Census and government data to produce estimates of poverty for local neighbourhoods
the methods that were applied to the 2011 Census to protect the confidentiality of the public and their data
setting up a new team at the ONS concentrating on 'big data' –we worked on applying data science techniques to produce experimental analysis and statistics from new data sources, like social media, or prices scraped from the internet
the use and handling of statistics across DExEU
leading my team at DIT to produce fast and regular reporting about the effects of the coronavirus (COVID-19) pandemic on trade – this information was given to Ministers throughout the pandemic
My advice to aspiring analysts
If you're thinking about a career as a government analyst then I would really encourage you to go for it. There are many different opportunities for you to apply your technical skills to really make a difference.
Think about what interests you
Choose a role or topic that motivates and excites you. Think about whether you're interested in:
methods
research
social policy
economics
Do what you enjoy – but try not to get too comfortable. Keep challenging yourself.
Think about what doesn't interest you
Sometimes it's easier to know what you don't want to do. Think about this when you're deciding what to do next in your career. You can use this knowledge to help you make your decisions.
Develop your skills
Keep developing your skills. This could be your analytical techniques, or it could be your skills in things like communication, team building, or leadership. Make time to:
work on your skills
think about your progress
challenge yourself to develop your skills further
Always look for opportunities outside of your 'day job'. We are lucky that there are often other projects that we can get involved in across the government analytical community. These projects can give us new experiences, like secondments to other departments, short term projects, or corporate work.
Create a great network of people
Create a good network of colleagues that will support and challenge you as you develop your career. Government analysts like to work together, so this should be an easy task!