Role profile: social researcher
Social researchers use the methods of social scientific enquiry to measure, describe, explain and predict social and economic phenomena to policy makers. These methods include:
surveys
controlled trials
qualitative research
case studies
analysis of administrative and statistical data
Researchers:
provide government with objective, reliable, relevant and timely social research
support the development, implementation, review and evaluation of policy and delivery
ensure policy debate is informed by the best research evidence and thinking from the social science
provide in-depth data and objective analysis on what people and organisations think – this includes analysis of how they behave and why they may not be responding to initiatives
ensure government and decision-makers have an understanding of the people and organisations affected by their decisions – this includes thinking about the wider social consequences
You can find more information about Government Social Research (GSR) roles and skills in the GSR Technical Framework. The Framework which was fully rebranded in February 2022. It gives details about the technical expertise for members of the GSR profession at each grade.
The Framework concentrates on understanding people and society, which is the main purpose of GSR. It covers GSR Technical Expertise, which falls into two categories:
technical skills
using and promoting social research
These categories cover the skills and knowledge needed for social research within government. The technical expertise indicators are cumulative. This means that GSR members at each grade should be able to demonstrate the expertise for their grade and the grades below them.
Members of the GSR can also use the new GSR Professional Skills Framework on the GSR members website. The Professional Skills Framework gives details about the range of professional skills that GSR members across government need to help their career and development aspirations.
Typical role responsibilities
The role responsibilities for social researchers are different depending on the level of the role.
Research Officer
At this level you will:
have good knowledge of research methodology, method, and the latest techniques – for example, at degree level 2:1 or 1st
be able to apply research methodology, method, and the latest techniques in small scale research projects
be able to design small scale and less complex research projects – this includes defining research questions and writing draft specifications
be able to summarise and interpret information accurately – this includes using different sources, analysing important data sets, and using your knowledge of relevant data analysis packages
have a good working knowledge of departmental procurement procedures, quality assurance processes, legal and ethical issues and principles relating to social research
be able to critically assess and evaluate information and evidence to support team members managing more complex external research projects – such as judging merits of research tenders, assessing research findings, or evaluating new ideas and methodologies
persuade other people to support the research process – this includes working to increase awareness of cross cutting research possibilities
understand policy context to produce appropriate and timely analysis, and clear reporting of research results, tailored to customer needs.
Senior Research Officer
At this level you will:
be able to demonstrate a thorough knowledge of research methodology, method, and the latest techniques including main quantitative, qualitative and evaluation methods  – you will be at post graduate level, with at least two years of applied experience
be up to date with methodological developments
have experience of designing medium scale or more complex projects – this includes applying best practice guidance, identifying new areas for work, and translating policy requirements into comprehensive specifications that will meet customer needs
be able to accurately evaluate competing data sources – this involves being able to identify important points and trends to produce logical, accurate conclusions
have experience of managing research projects of significant scale – this involves working with other analysts and following relevant legal, ethical, procurement, and quality assurance practice to ensure quality of results and methodological thoroughness
be able to clearly communicate analysis of complex information – this will help other people make good use of social research evidence, even if it is not perfect
be able to encourage other people to have an interest in social research
about to contribute effectively to internal and external research projects
understand policy context and timescales – this involves being able to explain different perspectives critically and analytically
be able to work with other analysts to meet customer needs
Principal Research Officer
At this level you will:
have at least four years of experience in designing, working on and managing social research – this also involves providing research based advice and briefings
be able to apply your understanding of user needs and ability to identify research needs and evidence gaps – this includes being able to produce effective research designs to meet user needs
be able to evaluate and integrate research information from a variety of sources to reach logical conclusions – this also involves being able to effectively communicate this information to senior non-specialists, and helping them to take notice of important findings and implications
have extensive experience of commissioning and managing research
be able to develop research coordination strategy and understand how other analytical professions contribute to the strategy
be able to communicate your understanding of policy realities while clearly and accurately presenting social research evidence – this includes ensuring appropriate social research input to policy decisions
be able to work with other analysts within and outside government, and across departments to achieve comprehensive, relevant input that is of a high quality
be an advocate for social research – this includes educating other people about social research, which will help to develop customer expectations and needs
keep up to date with new methodological developments – this includes being aware of how they might be used within departments and in different policy contexts
Senior Principal Research Officer
At this level you will:
be able to apply your knowledge to high profile and complex projects – this includes providing a supervisory role for team leaders where appropriate
work to improve identification of research need and ability of research work to meet this through effective challenge and promotion of innovative methods and techniques.
actively explore different perspectives when evaluating data – this involves communicating with lots of different colleagues to inform this process
use your experience in research formulation at the overall programme level
make timely and objective decisions, based on best available evidence and comprehensive analysis – this will help other people to make accurate inferences from the available information
encourage staff to think about using new and innovative methods in social research and evaluation
advocate for the use of social research at the strategic level – this involves developing research strategies, actively exploring different options, and identifying shared interests
ensure programmes of work are closely aligned with strategic objectives given by customers
Chief Research Officer
At this level you will:
ensure high standards for social research – this involves keeping up to date with methodological developments and identifying value to your department and across Whitehall
anticipate future needs based on your understanding of evidence base
give advice based on critical evaluation of wide range of research
communicate relevant findings from complex research programmes to senior people and influential audiences in an engaging and accurate way – this gives politically aware advice to stakeholders that informs policy and practice
set a learning culture for all staff by instilling professional integrity and high professional standards in line with the GSR code – this involves encouraging breadth and depth in research skills including innovative methodologies and techniques, and good understanding of other analytical disciplines
demonstrate excellent cross functional awareness and use different analytical disciplines to produce comprehensive solutions
work with senior analysts and policy colleagues to develop a coherent and integrated research vision that reflects the contribution of each analytical discipline and meets customer needs
encourage excellence in social research practices and application
create intelligent customers and build your customer base
create and maintain influential relationships with the senior colleagues and important stakeholders outside government
present a compelling case for the value of social research
understand your evidence base, policy area and customers' priorities to influence research priorities
ensures policy and political implications of research are understood and managed
develop policy and action plans with customers – this includes ensuring research capability and evidence base is relevant to the short term goals and strategic priorities of your main customers
Sample career path
The social researcher career path shows some of the common entry and exit points for the role. It also shows the typical skill levels needed.
You can enter a social researcher role from another analytical profession, or from other professions. You can also exit the role to join another profession.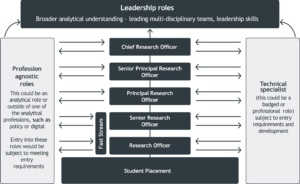 The diagram shows a potential career path. It shows that you can enter or leave a role from a wide range of backgrounds and experience levels. For example, you could become a social researcher by developing your skills on a student placement. You could continue to move up the levels in the career path by taking on more senior social researcher roles. Or you could develop your skills by working in a technical specialist role in an analytical or digital profession. You could also develop the necessary skills by working in a profession agnostic role outside of these professions.
A role that could be done by any person with the relevant skills or experience from any profession.
This could be a 'badged' or professional role that is subject to entry requirements and development.
Beyond the chief social officer role, you could go into more senior leadership roles. These roles require broader analytical understanding, and the ability to lead multi-disciplinary teams.