Role profile: operational researcher
Operational Research (OR) provides a clear understanding of problems and applies mathematical, scientific and facilitative methods to analyse a wide range of real-world issues.
Analysts offer rigorous, objective and practical analytical support to decision makers. Operational research is about working with policy makers and managers to solve tomorrow's problems today. It calls for scientific methods of analysis and a systematic exploration of the quantifiable aspects of problems.
You can find more information about Government Operational Research Service (GORS) roles and skills in the the GORS Competency Framework.
Typical role responsibilities
The role responsibilities for operational researchers are different depending on the level of the role.
OR Placement Student
At this level you will:
develop your understanding of the strengths and limitations of OR techniques in your team's area
develop your experience in the practical application of techniques to your own work area
be able to recognise the importance of data quality – this includes identifying and raising issues relevant to your work
be able to report your own analytical work in detail to meet customer needs – this involves effectively presenting results in both written and oral form
look for opportunities to learn from colleagues
GORS Level 1
At this level you will:
take direction from a senior grade about what analysis to do and how best to do it
develop your knowledge and understanding of a range of different OR techniques and problem-solving approaches – this will enable you to apply the correct approach to your work
communicate important messages from your analytical work clearly and concisely to a variety of audiences
provide quality and product assurance for other people – this includes escalating risks if there is a problem with quality and product assurance
provides guidance to junior staff on how to get the most out of their training and professional development
GORS Level 2
At this level you will:
be able to manage and complete projects with minimal supervision
be able to challenge leadership about which analysis you should do within the time available
help break down complex problems into a clear structure
formulates specific questions that can be dealt with through modelling and analysis of available data
be able to describe how you have explained the limitations or uncertainties in your analysis – this includes explaining what the limitations or uncertainties mean for the business or policy area
GORS level 3
At this level you will:
be proficient in managing a project from beginning to end – this involves being able to work towards stakeholder agreement and being able to provide analytically comprehensive quality assured work
have an extensive understanding of a number of OR techniques – you will be able to demonstrate a breadth of knowledge across a range of hard and soft analytical techniques
be knowledgeable about the strengths and limitations of analysis and underlying data – you will be able to describe how you have explored uncertainty in a piece of analysis and how you have explained the possible consequences to a client
promote professionalism and be an example of best practice in the performing and communication of analytical work
ensure projects are well-managed and fully documented
Grade 6 and 7
At this level you will:
manage a team of analysts – this includes providing direction and clarity on analytical projects
instil professionalism and integrity in all aspects of analytical work – you will uphold GORS best practice and ensure that work is appropriately quality assured
convince senior officials about the implications of analytical evidence in a wide context
support GORS recruitment and induction of high quality OR professionals in the GORS community
support progressive professional development, including time to explore the newest techniques and technologies
Grade 5
At this level you will:
encourage and set direction for major proposals for analytical work programmes involving OR contributions – this includes ensuring the contribution made by OR supports the aims and objectives of the department
review findings and recommendations of analytical work with senior officials – you will be able to convince ministers and senior officials on policy and programme implications of analytical evidence
leads on the OR capability within the department by setting the overall direction, identifying future needs, and welcoming future advancements seen in OR outside government and in other government departments
work to facilitate, promote, and maintain GORS professional activities – you will work to ensure OR is  recognised within the department as most current standard of analysis
Sample career pathway
The operational researcher career path shows some of the common entry and exit points in the role. It also shows the typical skill levels needed.
You can enter a operational researcher role from any profession, including other analytical professions. You can also exit the role to join another profession, including other analytical professions.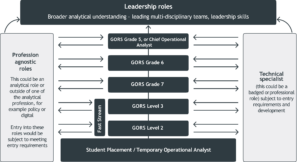 The diagram shows a potential career path. It shows that you can enter or leave a role from a wide range of backgrounds and experience levels. For example, you could become an operational researcher by developing your skills in an associate role. You could continue to move up the levels in the career path by taking on more senior operational researcher roles. Or you could develop your skills by working in a technical specialist role in an analytical or digital profession. You could also develop the necessary skills by working in a profession agnostic role outside of these professions.
A role that could be done by any person with the relevant skills or experience from any profession.
This could be a 'badged' or professional role that is subject to entry requirements and development.
Beyond the chief operational researcher role, you could go into more senior leadership roles. These roles require broader analytical understanding, and the ability to lead multi-disciplinary teams.