This item is archived. Information presented here may be out of date.
Thinking of a change? Think Apprenticeship!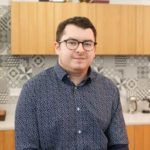 I came to my apprenticeship in a bit of a round about way. I had done a BSc degree in the past, but that career direction wasn't working out for me. I was looking to re-train in a more emerging field, and after taking some advice from friends, pointed me towards Data Science.
Now I work four days a week for the Office for National Statistics (ONS) and spend one day a week studying at Cardiff Met. Compared to the traditional university experience, I think that the Apprenticeship has some really standout benefits.
Firstly, four day work weeks are great. Admittedly the university work can be tough in its own right, but it really breaks the work week up and chatting with the other students is always a nice end to the week. Secondly, being able to earn and learn at the same time is a massive bonus. It really takes the pressure out of re-training, especially if you're a bit older and have bills to pay!
At the end of the day though, these are just bonuses. So what's the actual learning experience like? Personally, I find learning on the job to be a totally different experience than class based learning. Learning at work can be much more practical and solution-based, where you're learning on a problem by problem basis. For example, does somebody need you to access huge amounts of data from a database quickly for an urgent project? Guess what? Now's the time to learn some SQL! It's fast-paced, organic, and you're learning things that are going to benefit you right away.
Taking this practical method of learning on the job, and then backing it up with the theoretical knowledge you gain during the university course, you quickly start to see your skills grow. When I started this apprenticeship my code skills were virtually non-existent. Now only 18 months in I can code in a few different languages, produce fun data visualisations, run machine learning algorithms, among loads of other stuff. I think the mixture of learning methods is the best way to fast-track you to competency in the workplace.
Apply for an apprenticeship
Our 2021 recruitment campaign for apprenticeships has launched. Find out about the opportunities available across England and Wales.
National Apprenticeship Week 2021
National Apprenticeship Week 2021 aims to shine a light on the amazing work being done by employers and apprentices across the country.