The Government Statistical Service (GSS) Conference Experience: Reflections from Ed Humpherson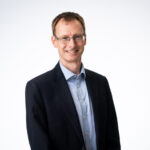 The Government Statistical Service (GSS) Conference is fast approaching! The 2023 Conference will take place on Wednesday 8 November and this year's event is a hybrid one.
Find out more about the GSS Conference 2023 and how to attend.
As we begin the countdown to this year's conference we wanted to reflect on last year's event. Ed Humpherson, the head of the Office for Statistics Regulation (OSR), answered our questions about his experience at last year's conference.
What did you enjoy most about the GSS Conference 2022?
Well, the excitement for me started before I even got to the GSS conference. What with various train strikes I ended up getting a coach from the office, which was a bit of an adventure.
On a more serious note, a real highlight was joining Robert Cuffe, Head of Statistics at the BBC, for a keynote speech. Not only was he very interesting and funny, but his perspective around being a journalist, working on tv and using statistics was fascinating. Above all, for events like this I love the fact that I get to meet so many people and have such interesting conversations. And I loved Manchester, it's such a lively city!
What statistics have you seen that follows the theme of this year's GSS Conference "Statistics and diversity: using statistics to build a more inclusive world"?
The most striking thing to me in the work of the OSR is the diversity of issues that we deal with. Within our casework function, we receive concerns on such a widespread range of topics. These can be concerns with very specific statistical issues like access to psychological therapies and parking ticket appeals, right up to concerns with statistics that impact the majority of society, for example COVID-19 statistics, crime statistics and statistics on migration.
There is also a diverse range of groups who raise concerns with us. The majority of these concerns come from members of the public which hits home the relevance of all our work across the GSS. To me, this shows that statistics, and interest in statistics, is inclusive. Everyone at some point or another in their life will be impacted by statistics, their use and how they are communicated…whether they actively engage with them or not.
What do you feel are the most important actions a statistician can take in their work to help build a more inclusive world?
It is so important to remember that the main task we have as an analytical community is to reflect back to society what that society looks like. Like a mirror. Our role is not just to inform policy priorities, although that can be a big part of the day-to-day work in a big Department. We have a collective opportunity and responsibility to use statistics to help society ask and understand the important questions of the day. That way you see how useful statistics are to society and how they feed into such a broad range of needs.
What is your favourite random statistic?
We assessed statistics about butterflies in England and UK in August this year, so I have to say the two sets of statistics on butterfly habitats and species. Now I know what you are thinking, that's quite a niche set of statistics to call my favourite… but these statistics are vital! They are a key indicator of biodiversity and the health of the environment. Butterflies respond quickly to changes in climate and habitat and are considered representative of other insect groups. On top of that, these statistics are valued by a range of users across policy areas, academia, and research. Even the way they are compiled is interesting! The data is drawn from the UK butterfly monitoring scheme – an excellent example of citizen science where a large and detailed data set its gathered by volunteers. These volunteers are often amateur enthusiasts who receive guidance and support on how to collect the data. It is such a great example of the (bio-)diversity and interest there is in statistics. This data, collected by members of the public who care about butterflies or conservation, get verified and reviewed and paint such an important picture of our world.