This item is archived. Information presented here may be out of date.
The benefits of taking on an Apprentice Data Scientist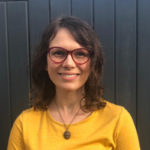 The Data Science Degree Apprenticeship presents a wealth of opportunities for upskilling and moulding people from all sorts of different backgrounds into experienced data scientists. I have been a Data Science Apprentice at the Office for National Statistics for three months now, spending one day a week studying Applied Data Science at Cardiff Metropolitan University and the rest of the week putting what I learn into practice. So far, the experience has been highly rewarding for me and I cannot recommend the scheme enough to anyone who wants to enter the field of data science.
Even though I have completed a BSc degree before, the Applied Data Science Degree feels like an entirely new experience, because I work alongside so many people with experience and knowledge in the field and because there is so much overlap between what I study and what I do in the workplace. In the first term of university this year we studied data visualisation, working towards a project in which we presented interactive visualisations of coronavirus (COVID-19) data.
Alongside this module, I was visualising COVID-19 data as part of a project in the workplace. Having so much overlap between the university and workplace projects was a great way to develop my visualisation skills. It is very satisfying to be learning techniques and theory that I can take straight back to the workplace, and gaining insight into how my studies are relevant to my future career.
But I don't believe it is only the apprentices who benefit from the scheme – taking on a data science apprentice gives employers the opportunity to access the wealth of experience that apprentices bring with them to the scheme whilst supporting the development of relevant, applicable skills. Imagine being able to shape and direct an undergraduate's skills and provide them with the experience that you would look for in a future hire.
That's exactly what managers can do when they take on a degree apprentice! Departments who are looking to build and extend their data science capability would find the addition of a data science apprentice highly valuable in the long term.
Apply for an apprenticeship
Our 2021 recruitment campaign for apprenticeships has launched. Find out about the opportunities available across England and Wales.
National Apprenticeship Week 2021
National Apprenticeship Week 2021 aims to shine a light on the amazing work being done by employers and apprentices across the country.