This item is archived. Information presented here may be out of date.
Next slide, please!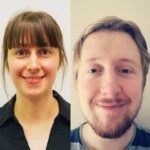 Presenting statistics to the nation at the coronavirus (COVID-19) press conferences
It's hard to believe that we've been supporting the 10 Downing Street press conferences for a year now. Back in March 2020, along with the rest of the UK, we started watching these briefings on the television. We remember wondering… who is producing these slides? We didn't for one second think that in a matter of days we would be helping!
Before we joined the team at the Cabinet Office, a few of us from the Best Practice and Impact (BPI) division were thinking about how we could apply best practice to the graphs being presented. Once we started supporting the production of the graphs, however, we very quickly realised there was no spare time to make improvements. The pressure on the team was enormous. They had a matter of hours to source usable data and turn it around in time for the daily conference.
The environment we found ourselves in was very challenging. Thinking back to our first day in the team, we remember feeling so nervous and worrying about what we had let ourselves in for. As time went on and things became more familiar the anxiety eased a little. Though there will always be something quite daunting about seeing your graphs going out on television to millions of viewers.
What we did
We quickly integrated ourselves into the small existing team and identified some areas to improve:
presentation of the graphs
transparency of the data sources
automating slide production
improving quality assurance
We went about this by splitting the team into two. The development team focused on building data pipelines, automating graph production, mocking up alternative slides and securing sign-off from data providers. The publishing team were then able to focus on getting the slides ready for that day's conference.
Over time we made some substantial improvements. One of our favourite moments was reformatting the entire slide deck to follow statistical best practice. This took a huge amount of work, and it was great to see lots of positive feedback. We integrated additional data sources into the conferences, including the Coronavirus Infection Survey, and the Office for National Statistics Opinions and Lifestyle Survey. We also developed a statistics and analysis signposting page for users and published a quality and methodology information report.
Autumn 2020: round two
We returned to support slide production during the second peak of COVID-19. Again, we've been faced with short timescales and tricky requests. Despite this, though, the second time round has been easier. The team is made up of analysts across government, and it's been great to see how well we've worked together despite many of us never having met in person. We work closely with the team in Public Health England who produce the COVID-19 in the UK dashboard which feeds into a lot of our graphs. Sourcing most of our data from one platform has made that side of the process easier to co-ordinate and helped to ensure transparency. We've also built several reproducible analytical pipelines, which means data ingest, data manipulation and quality assurance are largely automated.
What we have learned about presenting statistics to the public
The work has taught us a lot about conveying data and statistics to non-expert audiences. These are a few top tips from our experience:
less is more: keep content clean and uncluttered and make effective use of white space
keep your charts and messages simple: a bar chart or a line chart is often the simplest and best way to visualise your data
be consistent in your presentation: users become familiar with the way your data are presented, so don't deviate from this without good reason
ensure accessibility: use large and accessible fonts and colour-blind friendly palettes
be transparent about your data sources: publish the underlying data used and provide more detailed supplementary information for expert users
Some final reflections
We've been supporting this work for over a year now, and it has been quite the journey. The work has been fast paced and high pressured, but it has been great to play our part in ensuring that these important statistics are communicated to the public effectively.