My secondment to the BBC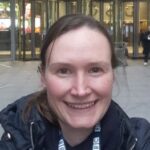 Hi, I'm Ellen. I'm currently in my final posting on the GSS Fast Stream, working at HMRC. In my third year on the Fast Stream, I was able to choose to spend 6 months in either a complementary posting to another government profession, or on a secondment to an external organisation. I chose a secondment and I was lucky enough to spend 6 months working at the BBC. This was a great opportunity to learn more about statistical communication. It also gave me the experience of being a user of government statistics.
One of my main roles involved 'filing copy'. This means producing a summary of a release that journalists across the BBC can use on radio, the news channel, and online. Coronavirus (COVID-19) was still a big story whilst I was working at the BBC, so I got used to summarising the results of the ONS COVID Infection Survey at pace! It was great to see a summary that I'd written make it onto the live page of the website.
I also supported journalists with their use of data in stories. This was really varied and meant that I could be doing many different things in one day, such as:
trying to find data about the number of people with ADHD
supporting journalists to analyse data collected from Freedom of Information (FOI) requests
explaining a complex model that was used in a research paper
As a government statistician, I'm used to working to become an expert in one area, so working on multiple topics like this was a new challenge, but it kept me on my toes.
I was lucky to be able to go into the BBC offices throughout my secondment. This was a great experience and I got to do things like:
see the newsroom
sit in the gallery as the 1 'o' clock news went out
go to Radio 1 to listen to a recording for newsbeat
Another highlight was getting the opportunity to work on the radio show 'More or Less'. This was a great opportunity to see an idea going from concept to production, and it was exciting to listen to the final report on the radio.
As well as my regular tasks, I worked on the development of a new statistical learning platform for journalists. This allowed me to apply my statistical knowledge in a new context, and build on my experience from a previous career as a teacher! I led virtual training sessions and used feedback from journalists to develop high-quality content, which the academy team used to create a professional learning platform.
I also got to work with the visual journalism team at the BBC. I already had experience of coding in R, so it was great to be able to use this skill and to see GitHub being used effectively. Producing my first BBC-styled chart felt like a big achievement, but the set-up at the BBC meant it was very easy to do. Some teams within government are already using Git, but I'm keen to bring my experience back to my department and encourage more teams to try it out!
As well as Git experience, I learnt a lot about what it is like to be a user of government statistics. I was amazed by the amount of information that gets released each week by different government departments. But I also found that it could be difficult to find a particular statistic, especially when you need to find the information quickly. This secondment showed me the challenges that the BBC face when trying to produce a story. It made me think about ways that we could make some of our statistical releases more user-friendly.
I also developed many skills throughout this secondment that will support my career development. I learnt about communicating statistics succinctly in a non-technical way. It was a bit unnerving at first to remove  the caveats from a statistic, but I learnt ways to use simple language to convey uncertainty. The idea of making your point first, and providing caveats later, is something that I will use as I move through my Fast Stream career. I think this skill will support me to communicate more effectively with non-analytical colleagues.
I also was given a lot of autonomy to make decisions and to work in a consulting role. This was a new skill for me and something I didn't always feel comfortable doing, but it developed my confidence and my ability to cope with uncertainty. I think these skills will be beneficial for me in future roles within the Civil Service.
Overall, I had a great time on secondment at the BBC and would highly recommend it. Whilst I was placed at the BBC through my Fast Stream scheme, the GSS also regularly offer three-month analytical secondments at the BBC for people at Grade 7 or Senior Executive Officer (SEO) level. If you're interested, you can find more information on the 'Loans and secondments' page.