Career story: David Wood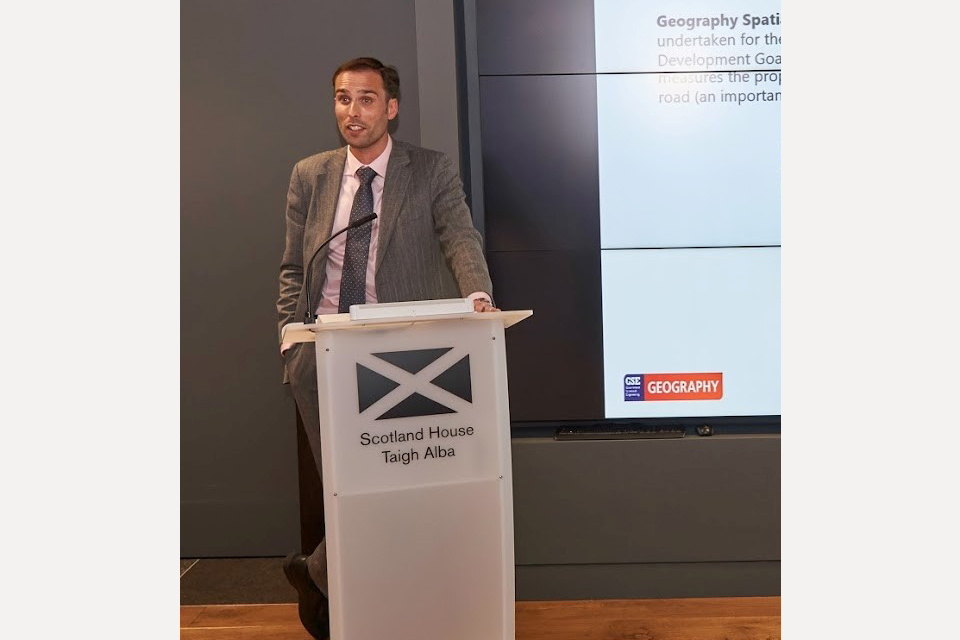 David Wood is the Deputy Director of Analysis and Performance at the Department for Environment, Food and Rural Affairs (Defra). He is a member of the Government Geography Profession (GGP) and Government Economic Service (GES).
When did you join the Civil Service and what was your job?
I joined the civil service in 1999 as a Faststream economist working in what is now the Ministry of Housing, Communities and Local Government on local government finance. I have gone on to work in 6 different Government departments, principally as an analyst, but also spending time in a policy role and a delivery role.
What do you do in your current role and when did you move into this? What inspired you to move into the role?
In addition to my day job, I am also the fi cross-government head of the geography profession, a new, growing and thriving profession which already has over 1,000 members across the public sector and is part of GSE and the Government Analytical Function. Everything happens somewhere, so it is crucial for government to understanding the impact of place on the design and delivery of public services and to have a profession which both supports its members and also champions the importance of spatial thinking across government.
My day job is at the Department for the Environment, Food and Rural Affairs. I joined (well, technically, re-joined after a 14 year gap…) Defra at the end of 2019 as the Deputy Director for the Environment Analysis Unit where I lead a multi-disciplinary team of around 30 specialists in environmental science, economics, spatial analysis, social research and statistics. The Unit provides joined-up analytical advice on environmental issues across Defra's remit and generates the tools, data, and evidence needed to enable people to take account of the value of nature in decisions, plans and strategies that they make. I also head up the Defra Group Data Science Centre of Excellence, bringing together, supporting and promoting data science across the group.
What are you proud of about yourself or your role or department?
As head of geography I am really proud of the work our 900 members are doing across government to support policy design and delivery. It was an honour to formally recognise this for the first time this year with the Geography in Government awards, with the main award presented at the annual Royal Geography Society awards evening. It was amazing to see the reaction and interest in the work of government geographers at the RGS awards evening as, so often, much of what we do in Government is not visible to wider professional communities.
I am very proud of the fact that within HMCTS we have built a truly multi-disciplinary team of analysts so that we can draw off a diverse range of experiences and backgrounds to best support the business with robust and insightful management information and analysis, including having members of 6 of the 7 professions in the Government Analytical Function.
If someone was looking to work in your area, what advice would you give them? What skills do you think they need?
Everything happens somewhere. Now, more than ever, geographers are combining increasing quantities of geospatial information with advances in technology to drive new insights on our place in the world. We are leading the way in government and the public sector, recognising the importance of Geography, and we have established a profession to support our members in their work across the public sector.
The geography profession is quick and easy to join. It is open to all civil, crown and public servants.
Not all of us fit neatly into one box, so you can join the geography profession even if you are a member of another profession, as a lot of us with geo backgrounds or on-the-job learnt geo skills apply them across different disciplines. I'm an economic geographer by training, so am also a member of the Government Economic Service.
In our regular updates to our members we highlight jobs and opportunities, so if you have a background and passion for geography, join the profession and see what opportunities are out there!