Housing and planning landscape
Contact:

Version:

1.2.0

Updated:

Fri 18 August 2023
The UK housing landscape is ever changing, with demand, supply and stock of housing linked.
The supply of homes built, expanded or demolished will change the existing stock of housing. The demand for housing, including due to homelessness or overcrowding, will influence where and how houses are supplied. The existing stock of housing and whether it is of the right tenure and in the right location will have an effect on the demand for new housing.
Central to the landscape is a person's housing experience. This can be both the physical features of the home, such as fire safety, or how the occupant feels about living in their home.
Other external factors, such as economic change or government policies can also affect UK housing. Rises in the cost of house-building can slow down the supply of housing in an area. Interest rate increases can affect mortgage repayments, and can make an area unaffordable for more people, shifting the demand.
This simplified inter-relationship between the main housing topics is shown in Figure 1.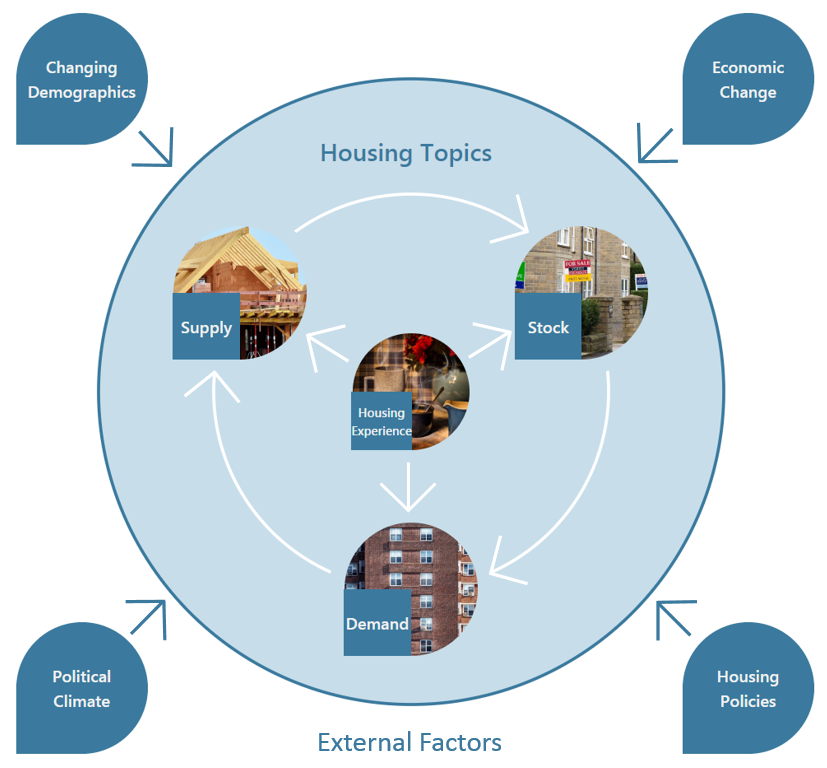 This tool is designed to let you explore the family of housing and planning statistics produced by UK public bodies and the devolved administrations of Wales, Scotland, and Northern Ireland. All statistics included are official statistics, and adhere to the Code of Practice for Statistics.
Different topic areas make up the landscape, many of them with their own sub-topics. For example, affordable housing is a sub-topic of housebuilding, which is also a sub-topic of supply.
Navigating the landscape, you will be able to:
Find the definitions for each of these topic areas
See how these topic areas relate to each other
Find links to statistics belonging to the topic area of interest
Some housing topic areas may not have any available official statistics. In such cases, third-party organisations may collect such information.
This tool is limited to official statistics, so we do not direct users to non-official statistics, even if they do exist.
If you have any ideas on how we can improve our tools, or want to notify us of any missing information, please contact us.
The landscape is made up of numerous themes, each with their own sub-themes. The relationship between parent themes and their children is shown visually and in the descriptions of those themes.
Each theme is expandable and when clicked, will show more information. If you are interested in exploring the statistics available for any given theme, there is a link in the description that will take you to the statistics database. There, theme-based filters will have been applied.
To see more of the landscape at once, you can zoom out by pressing Ctrl and - (PC) or ⌘ and - (Mac); to zoom back in, press Ctrl and + (PC) or ⌘ and + (Mac).